Lady Bobcats hosted volleyball tournament -Courtesy of Jim Magdefrau Benton Tournament Saturday, Set 16, 2023, at Van Horne Grinnell 2, Benton 1 G 11 26 16 – 2 BC 21 24 14 – 1 Benton was 21 of 88 for kills with 17 errors. Piper Nelson had nine kills. Emma Townsley added six. Townsley also had 13 assists. Mabry Sadler had six. Townsley had 11 digs. Kennedy Donald added eight. The team was 52 of 59 for serves with three aces. Townsley was 9 of 10 with one ace. Avery Palmer was 5 of 7. Haiden Moore was 4 of 7. Donald was 23 of 24 with one ace. Nelson was 7 of 7 with one ace. Sadler was 4 of 4. Iowa City High 2, Benton 1 ICH 15 21 15 – 2 BC 21 18 10 – 1 Benton was 22 of 65 for kills with seven errors. Nelson had 12 kills. Townsley had 13 assists. Sadler added five assists. Nelson had eight digs. Donald added nine digs. The team was 45 of 49 with three aces. Townsley was 8 of 10 with one ace. Palmer was 6 of 6. Moore was 8 of 9. Donald was 12 of 12 with one ace. Nelson was 5 of 6. Sadler was 6 of 6 with one ace. Benton 2, Burlington 0 B 15 15 – 0 BC 21 21 – 2 Statistics are coming Xavier 2, Benton 0 X 21 21 – 2 BC 13 15 – 0 Benton was 12 of 36 for kills with eight errors against Xavier (14-3) . Nelson had six kills for Benton. Townsley had seven assists. Donald had three digs. The team was 27 of 29 for serves with one ace. Townsley was 5 of 5. Palmer was 2 of 3. Moore was 3 of 3. Donald was 4 of 5. Nelson was 8 of 8 with one ace. Sadler was 5 of 6.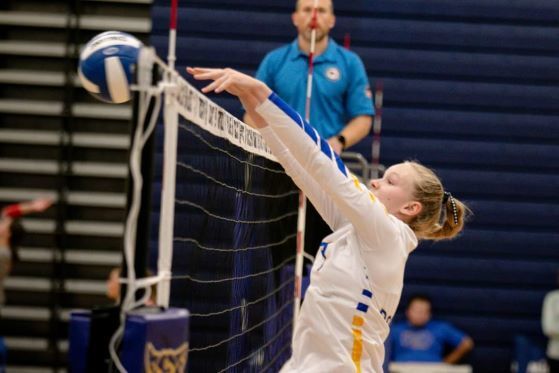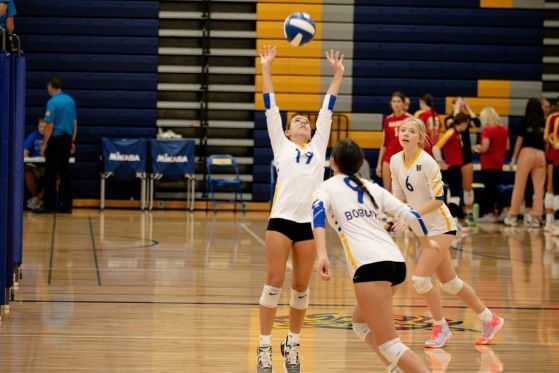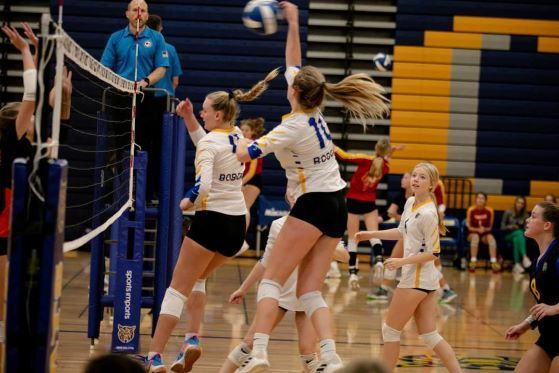 Bobcats get big road win at Clear Creek Amana -Courtesy of Jim Magdefrau- Friday, Sept. 15, 2023, at Tiffin Benton 42, Clear Creek Amana 27 BC 7 21 7 7 – 42 CCA 0 0 12 15 – 27 Benton (3-1) faced Clear Creek Amana (0-4) on Friday, Sept. 15, at Tiffin. Benton had 34 yards passing, with Brenden Heying going 5 for 7. Benton rushed for 258 yards. Heying had eight carries for 105 yards and three touchdowns. Carson Bruns had 15 carries for 121 yards and three touchdowns. Owen Tjelmeland had two catches for 13 yards. Jace Biery had one catch for three yards. Easton Pfiffner had two catches for 18 yards. Jace Biery had 9.0 tackles. Brenden Heying added 6.5. Mayson Mitchell had 5.5 tackles. With one sack each were Mitchell, Wyatt Rinderknecht and Dawson Rozek. Biery had one interception for three yards. Brody Timmerman had two kickoff returns for 34 yards. Carson Nolan returned two punts for 48 yards. Eli Kupka had seven kickoffs for 360 yards and one touchback. Caleb Gessner was 6 of 6 for points after touchdown. Kupka also had three punts for 113 yards. Clear Creek Amana's Quinton Tran was 16 of 34 for passing for 185 yards and one interception. CCA had 33 carries for 127 yards, led by Jackson Stevens, with 17 carries for 68 yards and three touchdowns. Benton hosts Fairfield (2-2) on Friday, Sept. 22, at 7 p.m., as Class 3A district football action begins. Friday, Sept. 22, 2023 Class 3A, District 5 Solon at Grinnell South Tama at Williamsburg Fairfield at Benton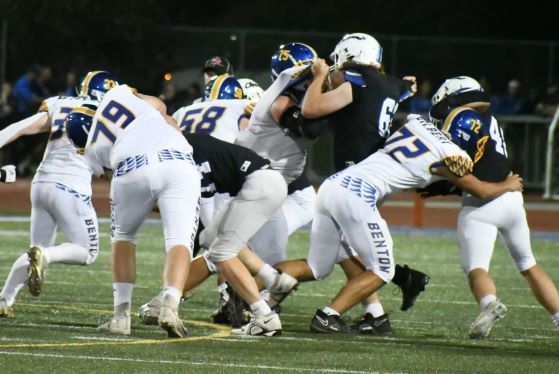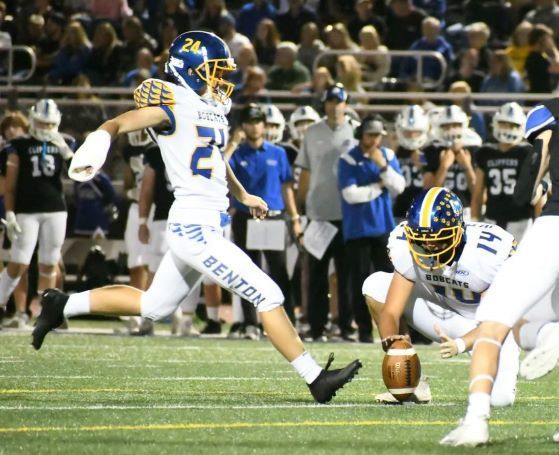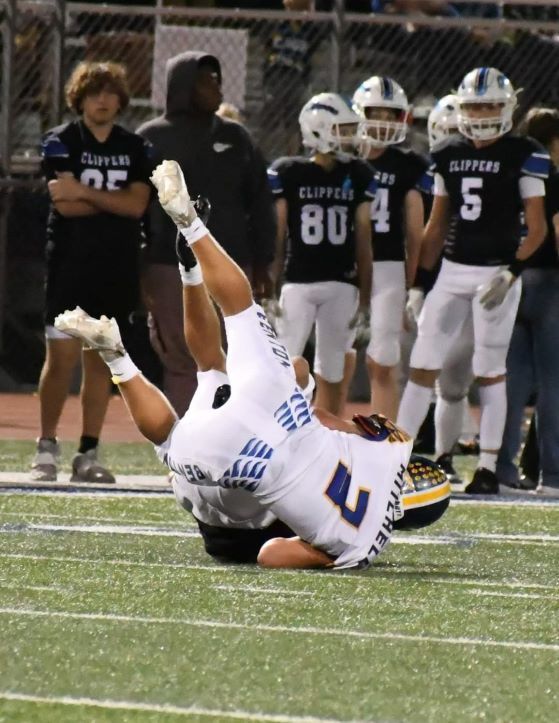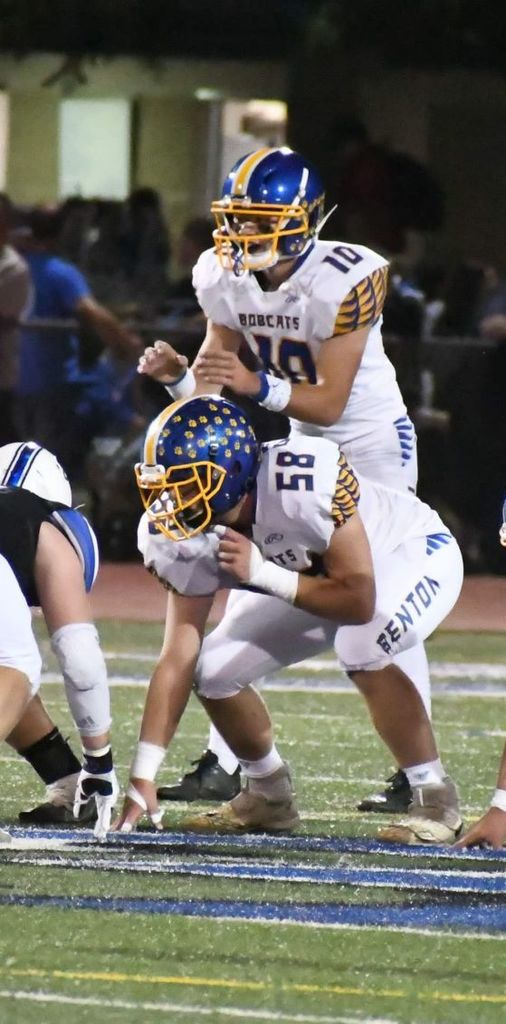 It's the most wonderful time of the year. Homecoming week!! Benton MS/HS students and staff showing their holiday spirit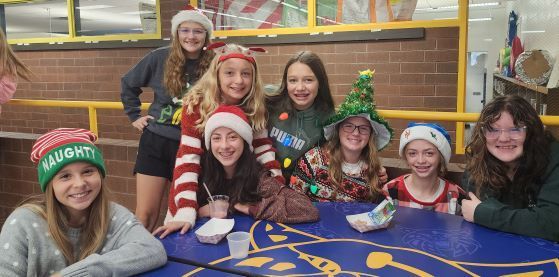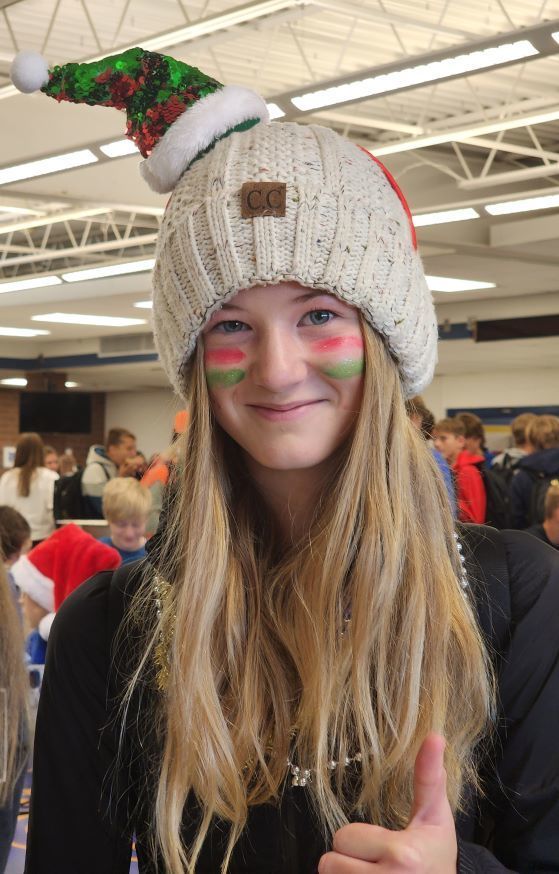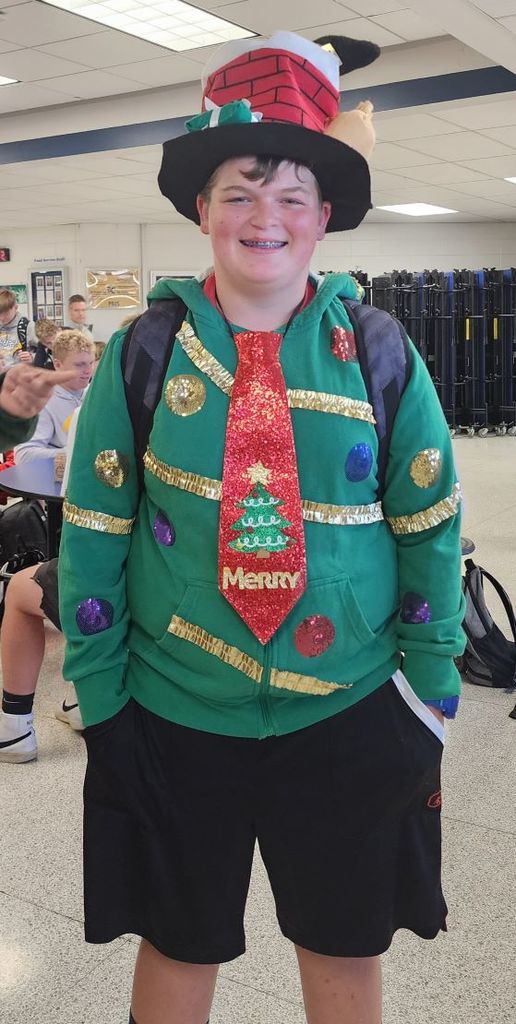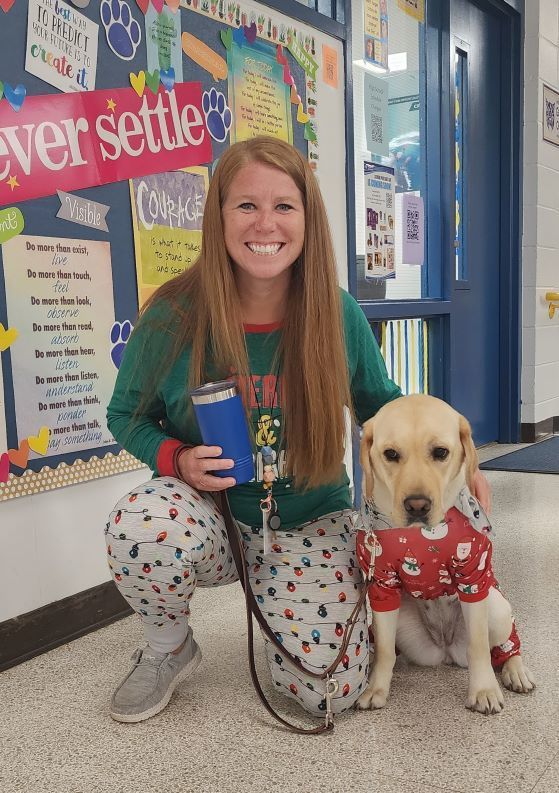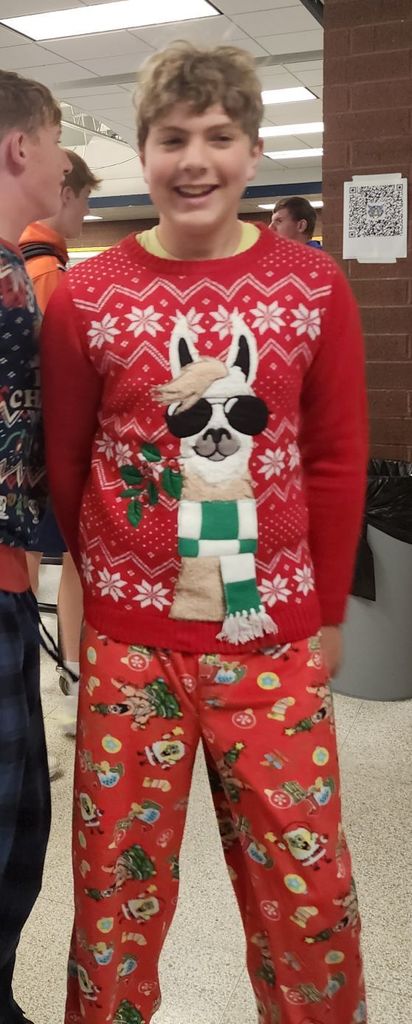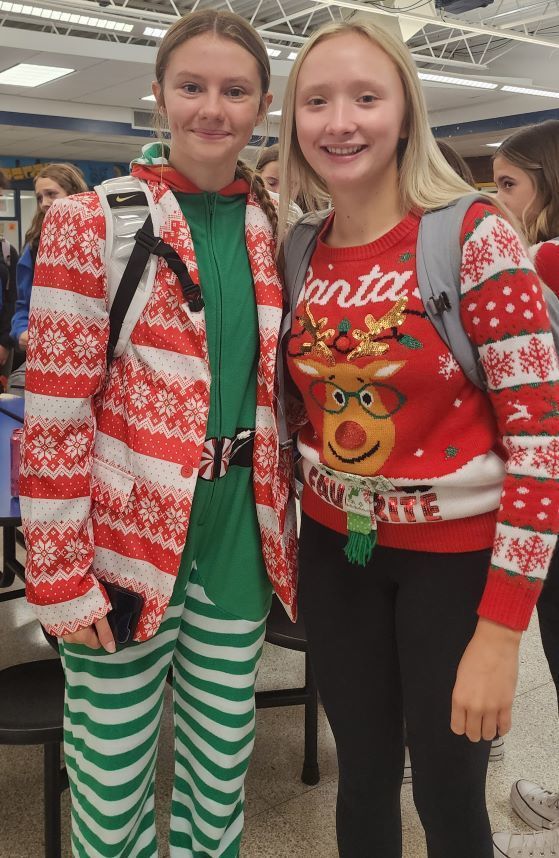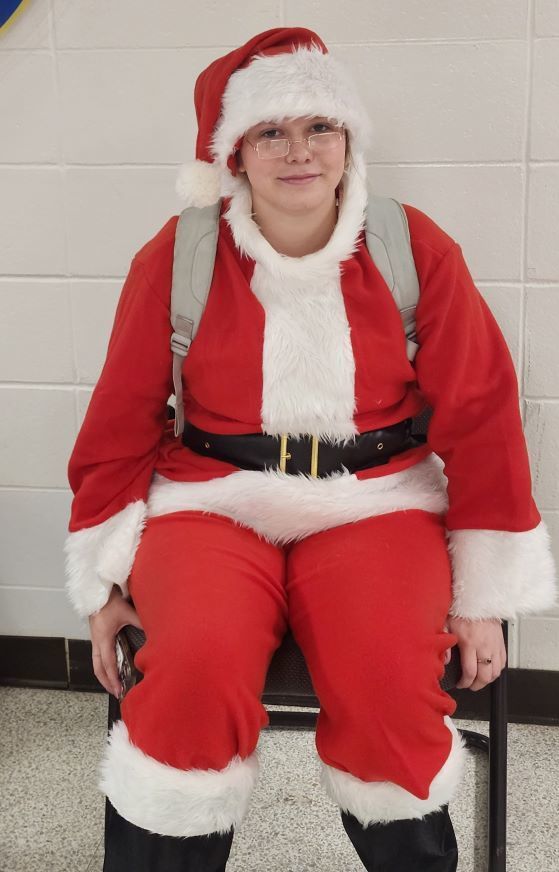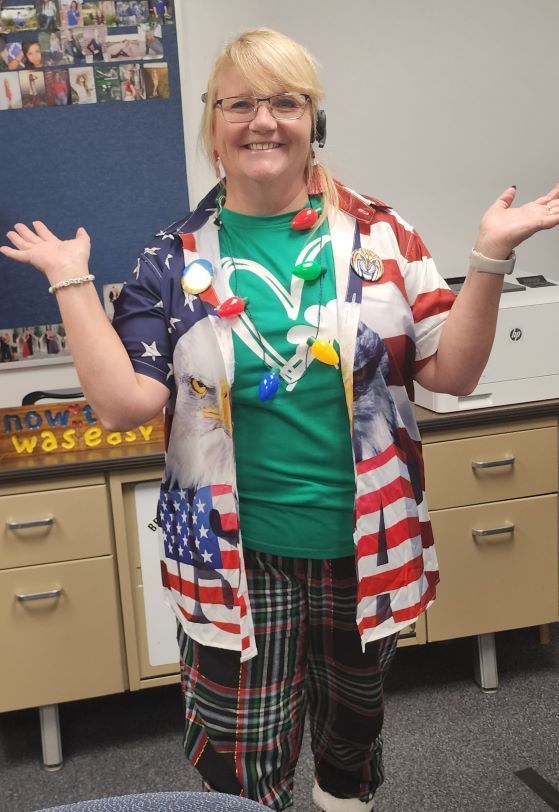 Learning through play is a key component in primary education. Check out these preschoolers in Mrs. Neff's class learning about a variety of topics in centers.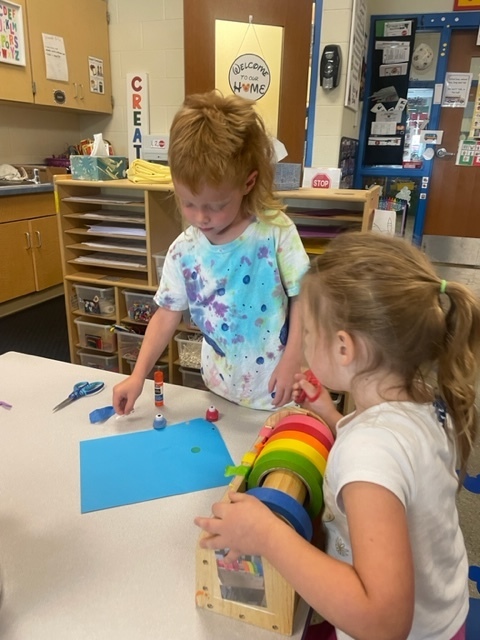 Benton Facility Survey 2
https://tinyurl.com/BentonFacilitySurvey2
Benton Community School Board seeks your feedback about improvements to our facilities. This short survey asks about your awareness of the recent bond vote (March 7, 2023) and preferences for future facility investments. Your input will guide a path forward that aligns with the infrastructure needs of the district and expectations of our community. *If you would like a hard copy, please reach out to the Central Office staff.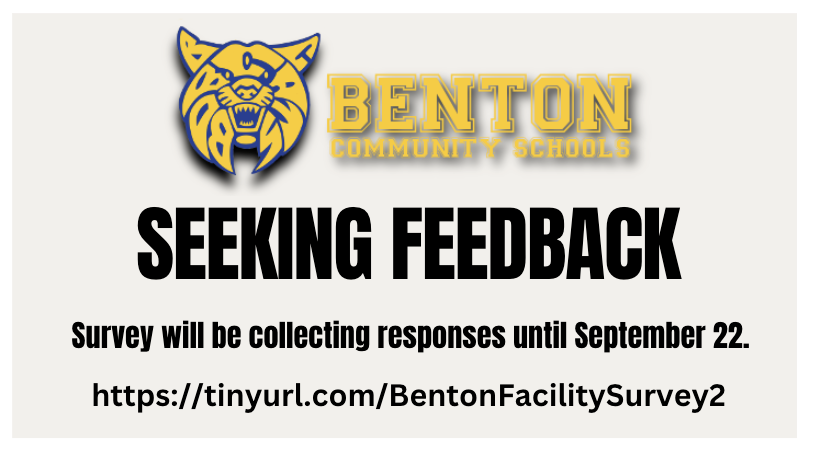 Mrs. Franck's kinders were working in math stations this afternoon. One of the stations was spent working with her on quick recall of numbers 1-6 by rolling the dice.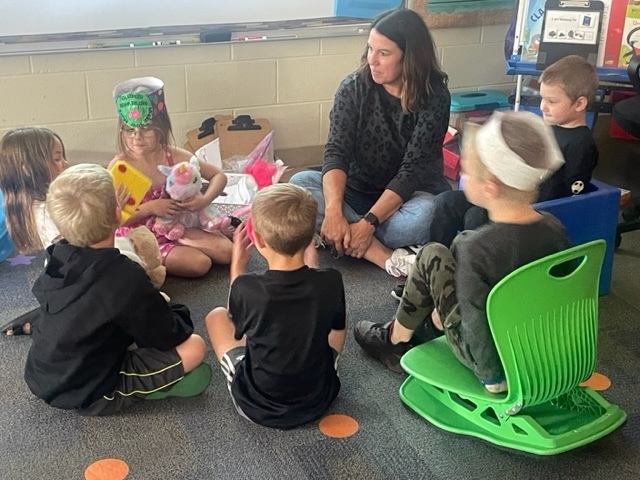 #BeABobcat #APlaceToBelong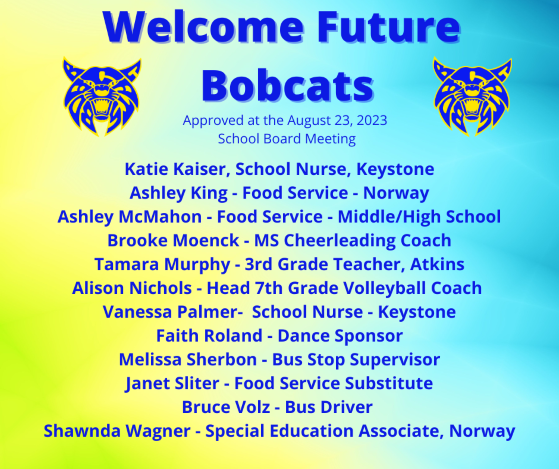 Mr. Patterson was spotted supporting art students in the stairwell this morning. Students were working on linear perspective drawings of the hallway.

Cross Country Teams Run at Cascade Invitational -Courtesy of Jim Magdefrau- Cascade Invitational Thursday, Sept. 14, 2023 Fillmore Fairways Golf Course, Cascade Boys 5K Central DeWitt 46 Jesup 105 Tipton 128 Regina Iowa City 135 Wahlert Dubuque 168 Beckman Catholic Dyersville 186 Benton Community 195 Monticello 209 Maquoketa Valley Delhi 212 Anamosa 270 Calamus-Wheatland 289 Maquoketa 297 Cascade Western Dubuque 297 Prince of Peace Catholic Clinton 346 Durant 374 Benton results 19 Caleb Olson 18:30.6 20 Isaac Morris 18:40.5 42 Luke Lange 19:35.0 57 Marcus Ricklefs 20:13.4 76 Jonathon Sadler 21:13.2 81 Colin Reiners 21:22.2 92 Brian Araiza 21:39.8 97 Noah Pickart 21:48.3 98 Parker Mitchell 21:48.6 102 Luis Araiza, 22:07.5 124 Ethan Schwake 23:55.9 125 Mario Talavera 23:56.15 160 Nathan Becker 28:09.9 167 Andrew Hines 29:39.0 Girls 5K Monticello 73 Tipton 81 Beckman Catholic Dyersville 92 Regina Iowa City 126 Jesup 131 Wahlert Dubuque 136 Benton Community 179 Cascade Western Dubuque 187 Maquoketa 242 Maquoketa Valley Delhi 245 Durant 307 Benton results 6 Jaida Lyons 20:36.8 20 Kyra Kauder 22:23.9 58 Layna DeMoss 25:57.5 67 Lizzy Wolf 26:37.5 82 Libi Frese 27:48.1 87 Alex Welte 28:12.2 98 Mary Phillips 29:43.2 114 McKenna Kramer 32:00.8 127 Jessa DeMoss 34:47.1 128 Ana Glawe 35:51.1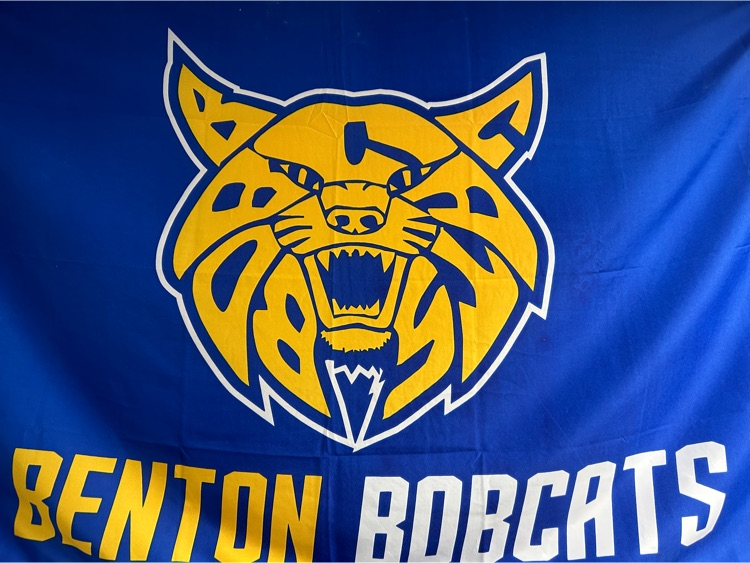 Benton Sweeps Grinnell in Volleyball 3-0 - Courtesy of Jim Magdefrau- Benton 3, Grinnell 0 G 15 23 19 BC 25 25 25 Benton had 37 kills in 122 attempts, with 22 errors. Piper Nelson led Benton with 17 kills. Emma Townsley added 17. Townsley had 17 assists. Mabry Sadler added 10. Kennedy Donald had 15 digs. Adding 10 each were Nelson and Sadler. Benton was 69 of 73 in serves with nine aces. Laura Junge was 5 of 6. Townsley was 20 of 21 with four aces. Donald was 10 of 10 with one ace. Aubrey Kelly was 1 of 1. Nelson was 13 of 13 with three aces. Callan Keiper was 1 of 2 with one ace. Sadler was 12 of 12. Olivia Brendes was 7 of 8. Benton (7-10) hosts a tournament on Saturday, Sept. 16. They face Iowa City High (5-5) and Marion (13-4).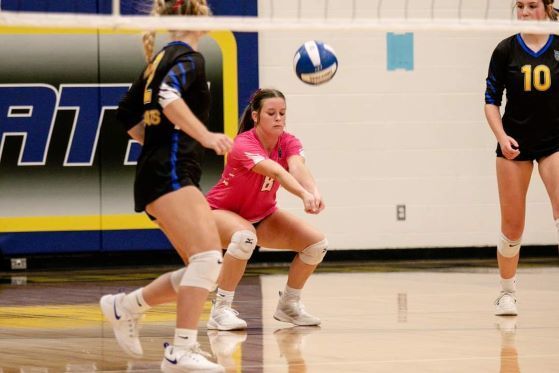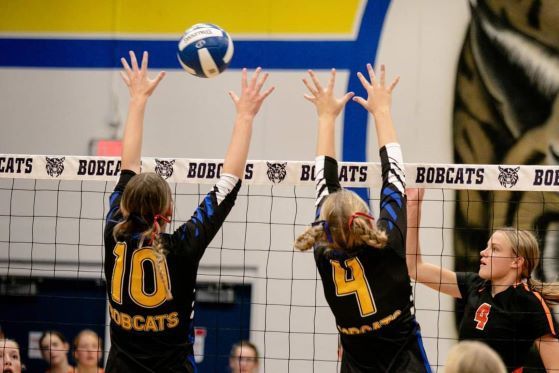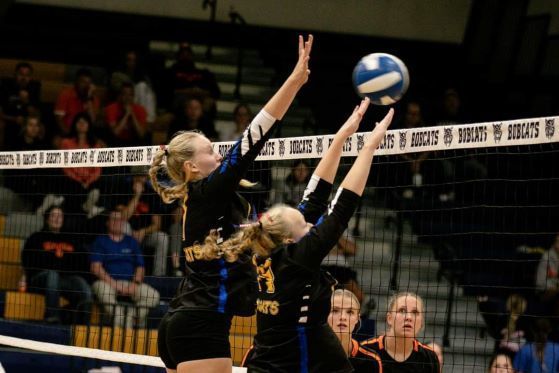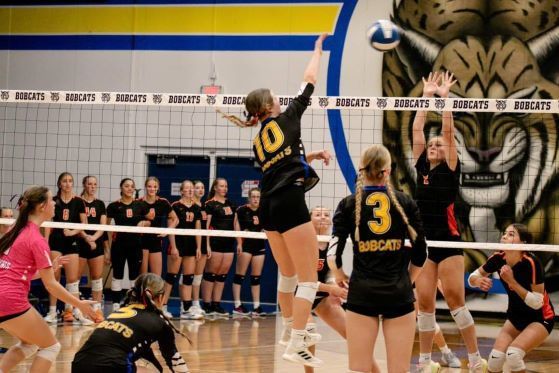 Mrs. Comisky guides 6th students through a math activity in the picture below. The space Mrs. Comisky provides is calm and engaging for all learners.

Why did you choose Benton? "Benton Community is home! I have bled blue and gold my entire life. Our community support and encouragement is what makes Benton a special place, where our neighbors are not only friends, but family."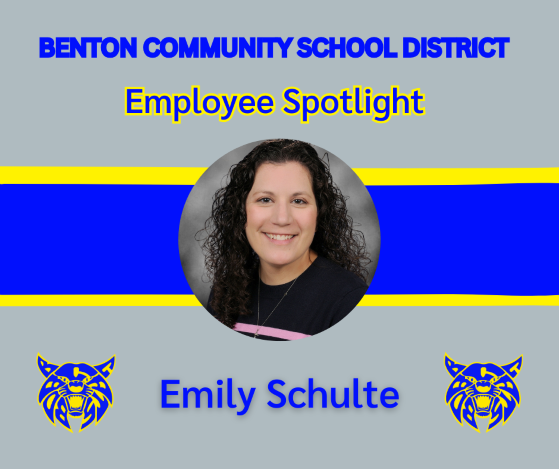 Teamwork is a core value held by Benton Community. Today, staff had the opportunity to work in teams in a variety of settings in order to positively impact students they serve.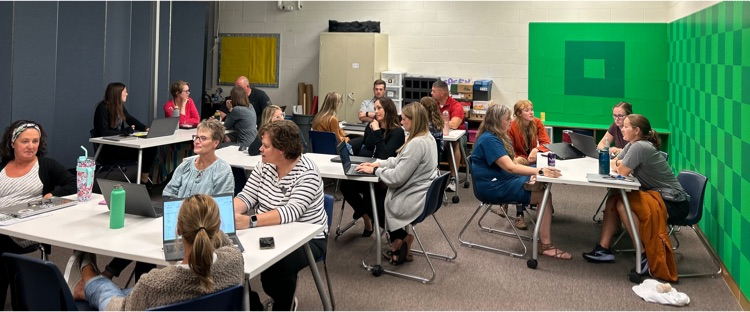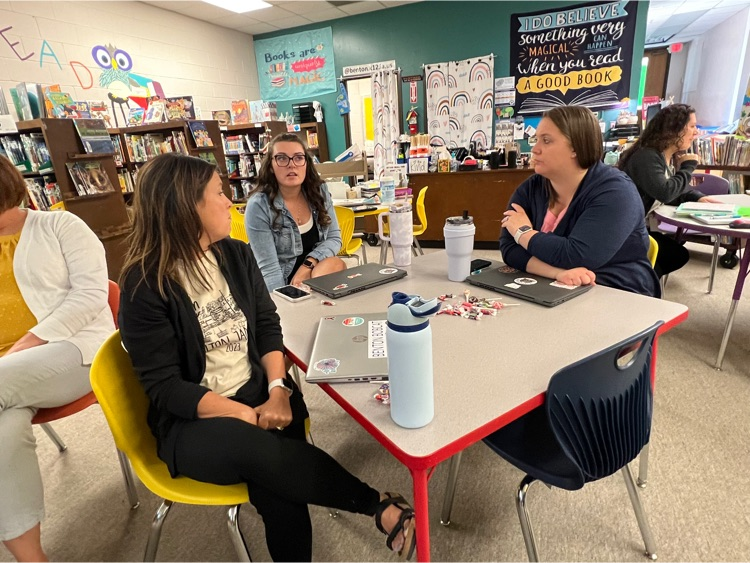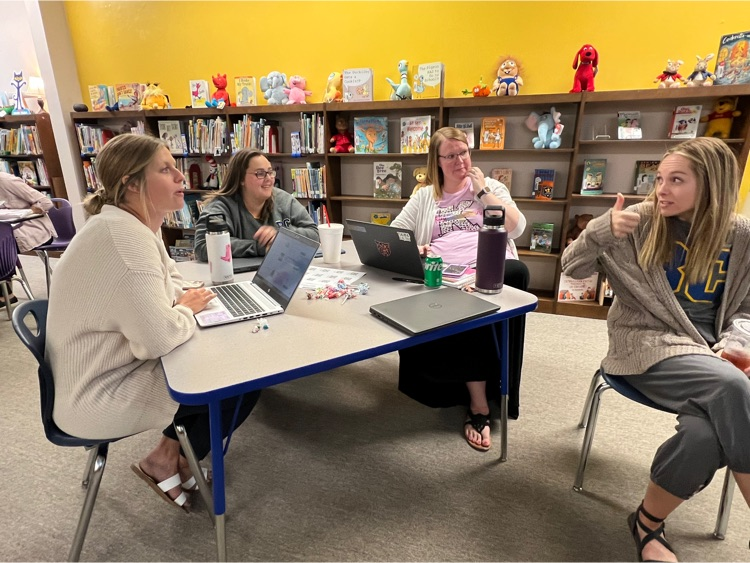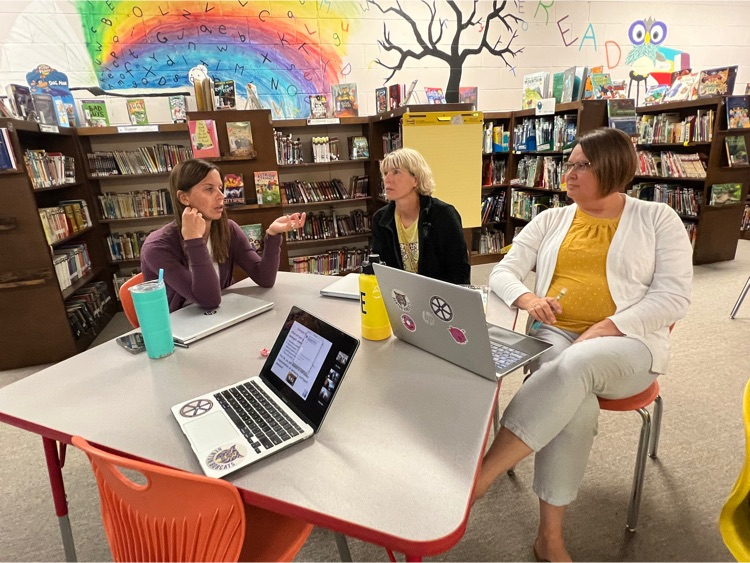 Top 10 Announced for Benton Homecoming - Courtesy of Jim Magdefrau- Benton Community's Homecoming Top 10 for King and Queen was announced on Sept. 13 in Van Horne. In front are Morgan Schulte, Alivia Pfiffner, Jaida Lyons, Zoey Junge, Ava Nolan, Kennedy Donald, McKenna Kramer, Karlee Voss and Emma Townsley. Not pictured is Piper Nelson. King candidates are Quincy Gilbert, Jace Biery, Ty Kulbartz, Kolby Wenger, Easton Pfiffner, Owen Tjelmeland, Jonah Thompson, Wyatt Rinderknecht, Brennen Blegen and Carson Bruns. The top five will be announced next week. The king will be crowned on Friday, Sept. 22, at the pep assembly in Van Horne. The assembly follows the parade, which starts at 1:30 p.m. The queen is crowned Friday evening, between the freshman and varsity football games.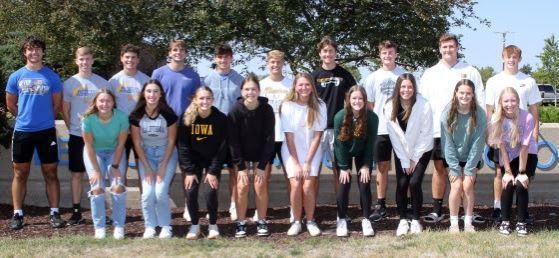 Benton Community will celebrate HOMECOMING next week! These Bobcats were preparing for the festivities by decorating windows with Benton blue and gold!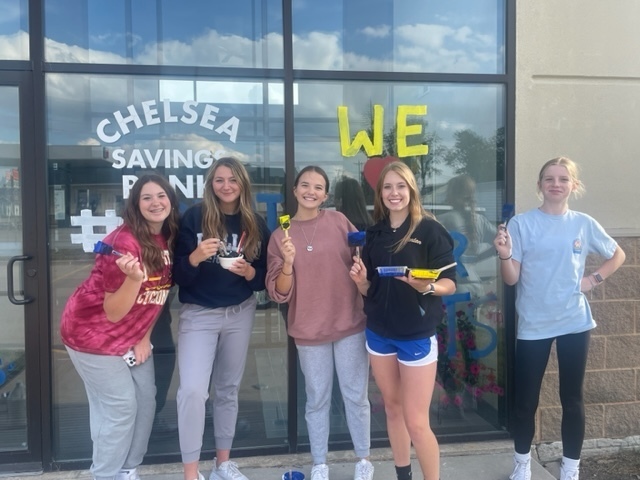 The kinders in Mrs. Terry's and Mrs. Anderson's classes were excited to be practicing their letters. Modeling, movement, and practice were all pieces of the instruction.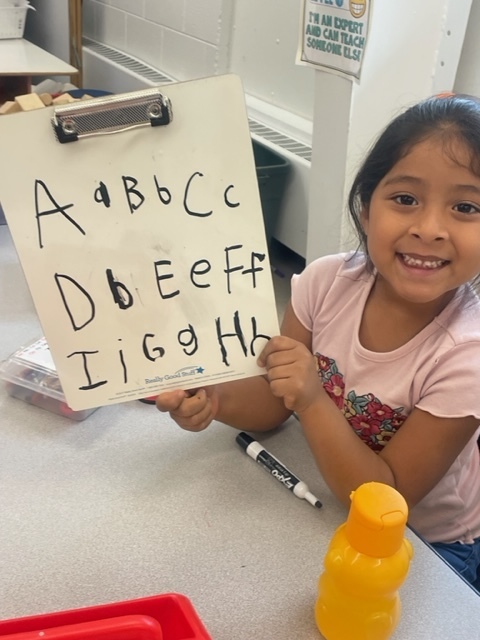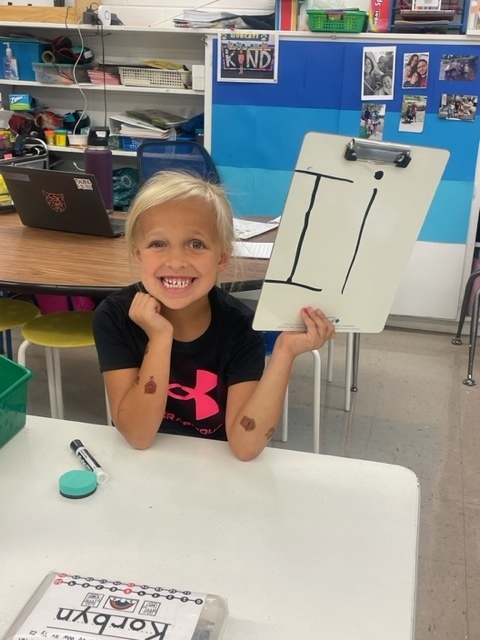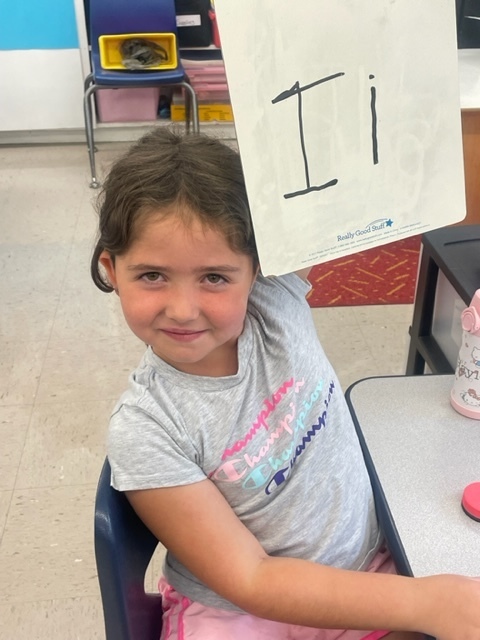 Yesterday was a great afternoon to take math outside! Mrs. Ehlen and her second graders were working on measurement and skip counting.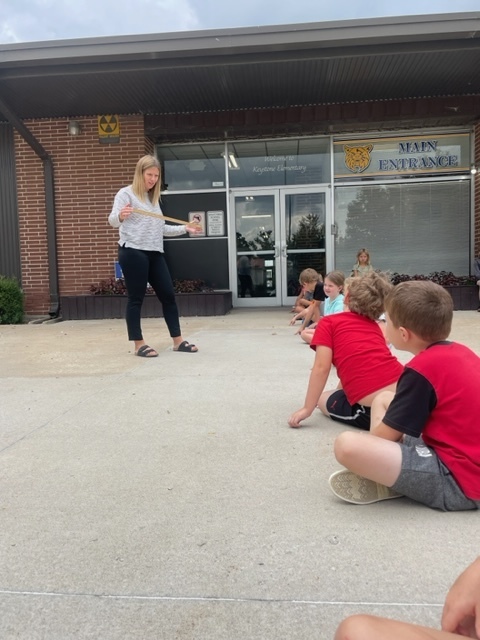 I teach Kindergarten at Atkins Elementary School. 3 years ago I chose to work at Benton Community because I wanted to teach in a community that felt like a family. Ever since making the choice of becoming a Bobcat I have met so many wonderful, families, students, coworkers, and lifelong friends. I couldn't ask for a better place to come to work every day.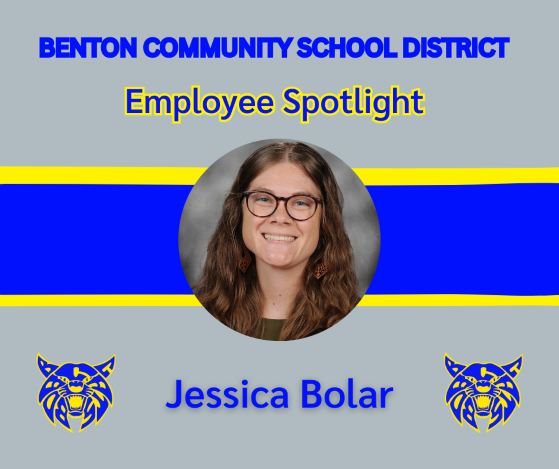 School will dismiss at 1:00 p.m. today, Wednesday, September 13. #BeABobcat #APlaceToBelong