Bobcat VB takes on Vinton tonight at Vinton. JV starts at 5:00 p.m. Varsity will start around 7:15 p.m. GO BOBCATS!!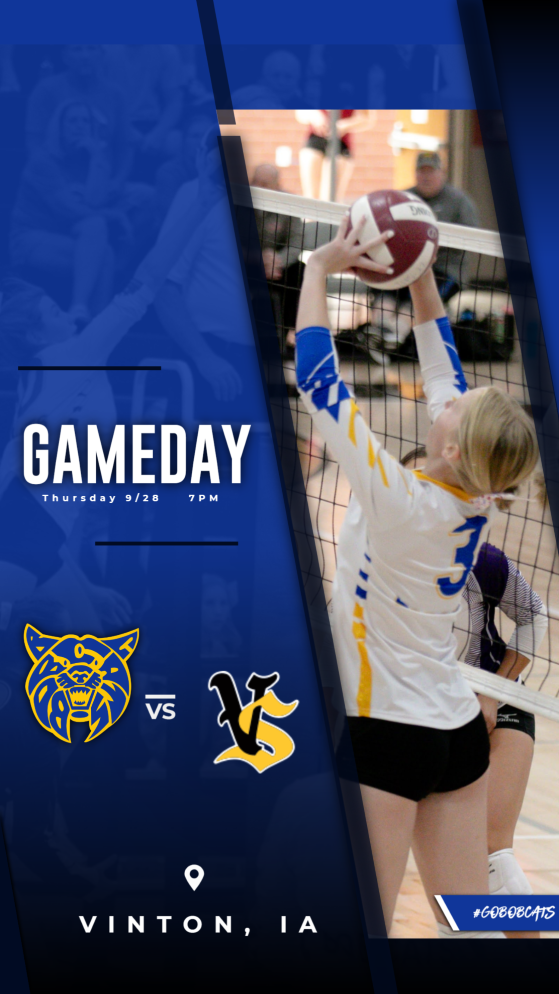 Mr. Trainer's science classes are currently working together on Acceleration Labs.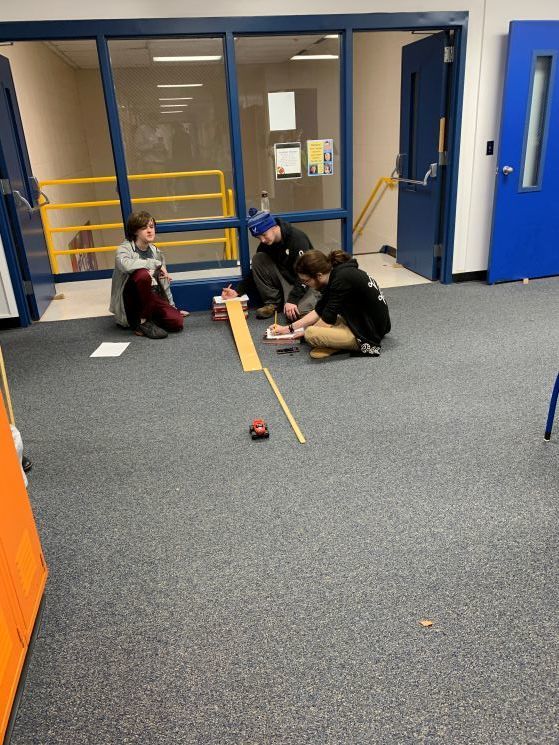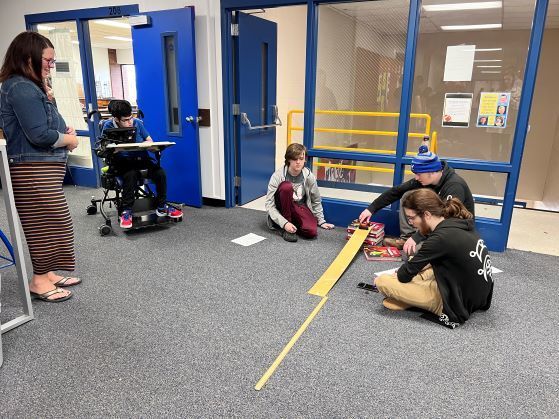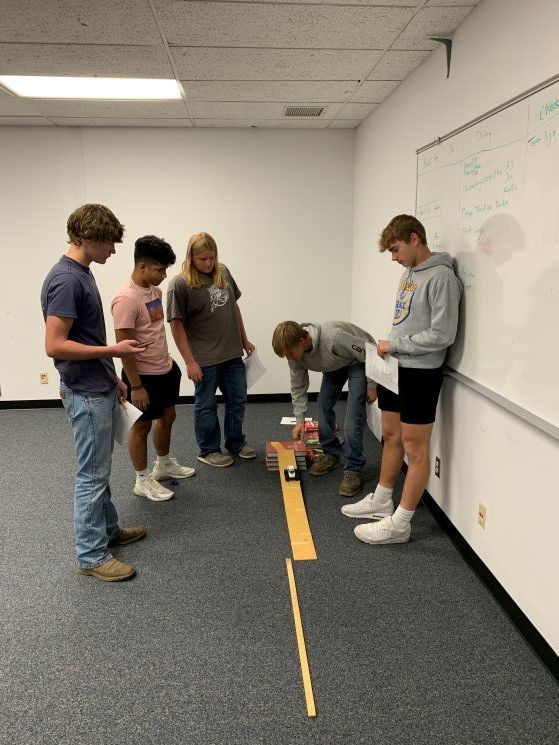 Benton runs at Jesup Invite -Courtesy of Jim Magdefrau- Jesup Invitational Tuesday, Sept. 26, 2023 Jesup Golf & Country Club Varsity Girls 5K 10 Jaida Lyons 20:22.6 21 Kyra Kauder 21:17.5 37 Abbie Jones 21:58.9 91 Layna Demoss 24:17.3 102 Lizzy Wolf 24:54.5 121 Alex Welte 26:50.7 JV Girls 5K 45 Mary Phillips 26:54.5 87 McKenna Kramer 29:48.1 98 Sarah Wright 31:43.0 101 Ana Glawe 32:48.1 102 Jessa DeMoss 32:48.1 Varsity Boys 5K 18 Caleb Olson 17:31.2 22 Isaac Morris 17:37.2 65 Luke Lange 19:18.1 68 Noah Pickart 19:35.1 85 Brian Araiza 19:55.4 88 Marcus Ricklefs 19:56.0 91 Jonathon Sadler 20:03.1 JK Boys 5K 23 Colin Reiners 20:27.7 25 Parker Mitchell 20:31.5 34 Luis Araiza 20:47.2 60 Mario Talavera 21:55.4 71 Ethan Schwake 22:37.0 102 Nathan Becker 23:59.7 127 Andrew Hines 27:25.0 Varsity girls' team scores Center Point Urbana 126 Union 132 North Linn 134 Denver 134 Hudson 137 Dike-New Hartford 186 Jesup 193 Benton 225 New Hampton 239 North Fayette Valley 240 Oelwein 245 Newman Catholic Mason City 265 MFL MarMac 283 Wapsie Valley Fairbank 285 Edgewood-Colseburg 327 Aplington-Parkersburg 332 Alburnett 312 Varsity boys' scores Waukon 67 Denver 84 Center Point-Urvana 89 Oelwein 125 Jesup 166 Maquoketa Valley Delhi 186 Alburnett 232 Benton 234 Hudson 303 Starmont West Central 303 Newman Catholic Mason City 320 North Fayette Valley 330 Union 359 Waterloo Columbus 376 Independence 389 MFL MarMac 395 Dike New Hartford 409 Kee Lansing 426 Wapsie Valley Fairbank 468 New Hampton 488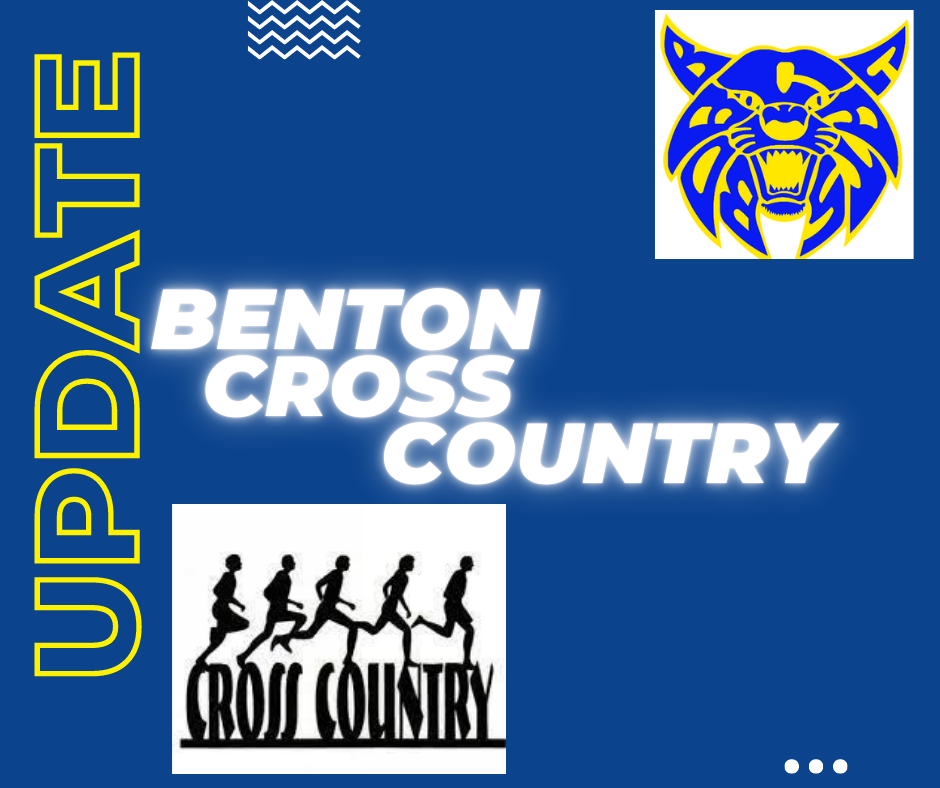 Benton Senior English students visited the Keystone Care Center on Tuesday, September 26th. During their visit, they met and interviewed the residents. The conversations they had will help prepare students to better understand their upcoming unit about the American Dream.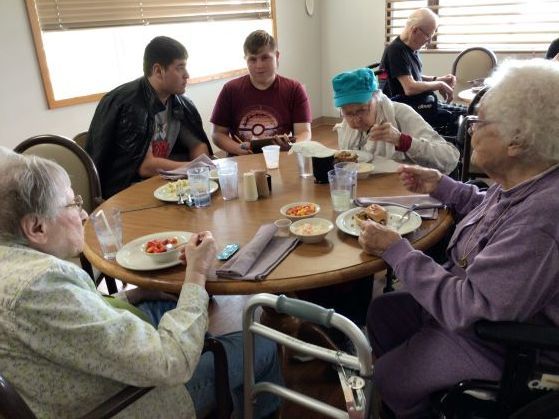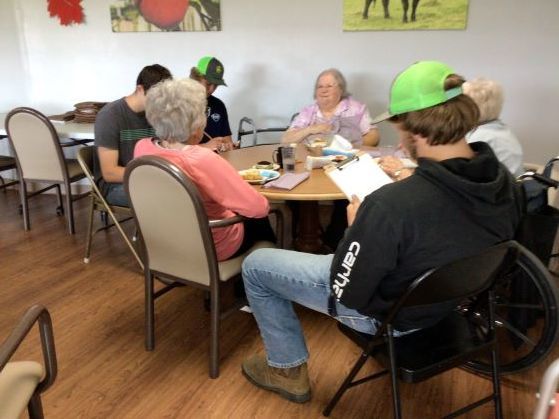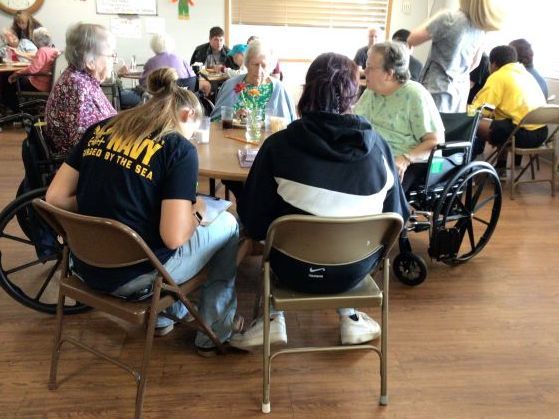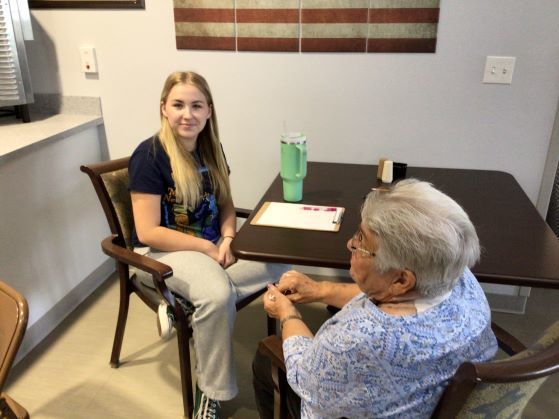 Once a Bobcat, always a Bobcat!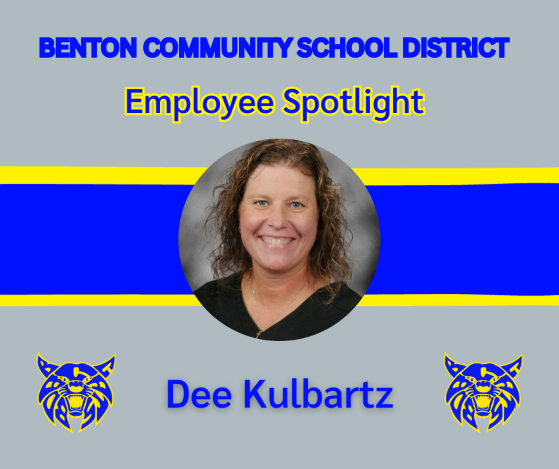 School will dismiss at 1:00 p.m. today, Wednesday, September 27. #BeABobcat #APlaceToBelong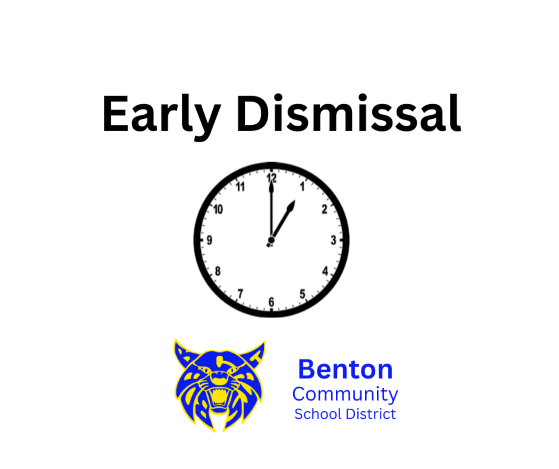 Benton football blanks Fairfield in district football opener, 38-0 -Courtesy of Jim Magdefrau- Friday, Sept. 22, 2023, at Van Horne Benton (4-1) 38, Fairfield (2-3) 0 F 0 0 0 0 – 0 BC 3 21 7 7 – 38 Fairfield statistics are coming. Brody Timmerman returns the opening kickoff. Benton's Brenden Heying was 5 of 9 for passing with 29 yards. Benton rushed for 268 yards. Carson Bruns had 21 carries for 158 yards and two touchdowns. Brenden Heying had 12 carries for 64 yards and two touchdowns. Blayke Heying had eight carries for 42 yards. Owen Tjelmeland had two carries for four yards. Owen Tjelmeland caught one for two yards. Easton Pfiffner caught four for 37 yards. With 5.0 tackles each were Dylan Lefebvere and Bruns. Brennen Blegen had 4.0 tackles. Dylan Lefebvere had one sack. Recovering one fumble each were Brenden Heying, Kolby Wenger, Gavin Brooks and Braydie Parizek. Owen Tjelmeland had one interception, which he returned for six yards. Jace Biery returned one interception for 29 yards and one touchdown. Brody Timmerman had one kickoff return for 22 yards. Carson Nolan had one punt return for nine yards. Eli Kupka had seven kickoffs for 358 yards. Caleb Gessner was 1 for 1 for field goals, kicking a 31-yard field goals. He was 5 of 5 for points after touchdown. Class 3A district 4 standings Overall, District, Point Difference Williamsburg 5-0 2-0 29.4 Benton 4-1 1-0 24.2 Solon 4-1 1-0 12.4 Grinnell 3-2 1-2 -1.0 Fairfield 2-3 1-1 -7.0 South Tama 0-5 0-1 -37.8 Friday, Sept. 29 games Williamsburg at Fairfield Benton at Solon Grinnell at South Tama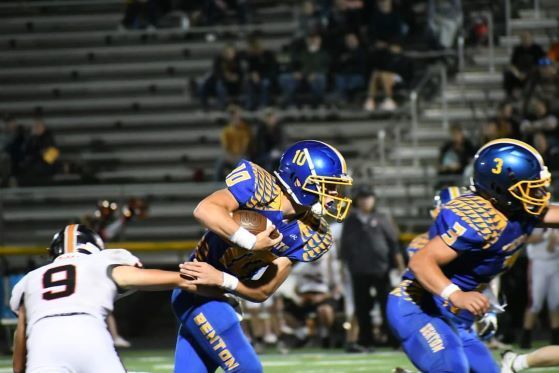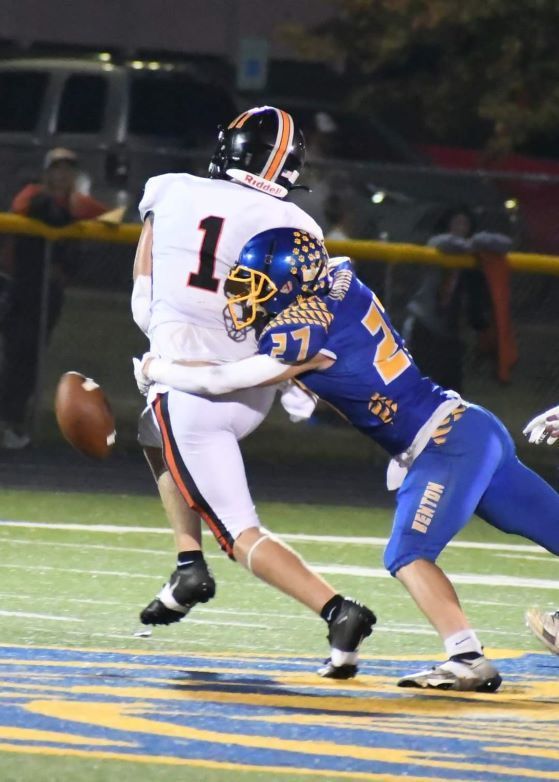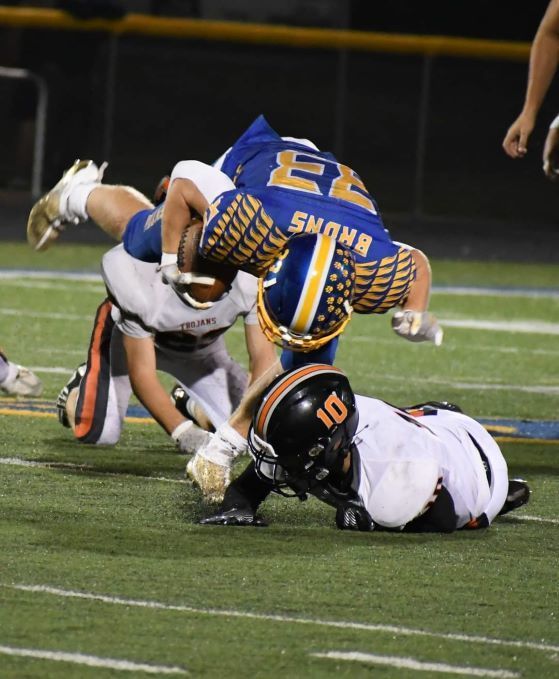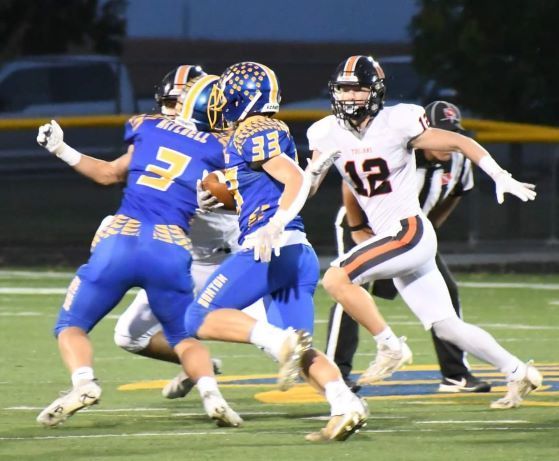 "My favorite thing about being a Bobcat is knowing I get the opportunity to impact our future leaders. Each student who enters our building deserve a school that makes him/her feel safe and cared for."

Homecoming weather update: The queen coronation has been delayed to 6:45 and the game start time has been delayed until 7:15.

Benton staff at the end of a successful Homecoming week! Queen's coronation at 6:30 p.m. Football game at 7 p.m.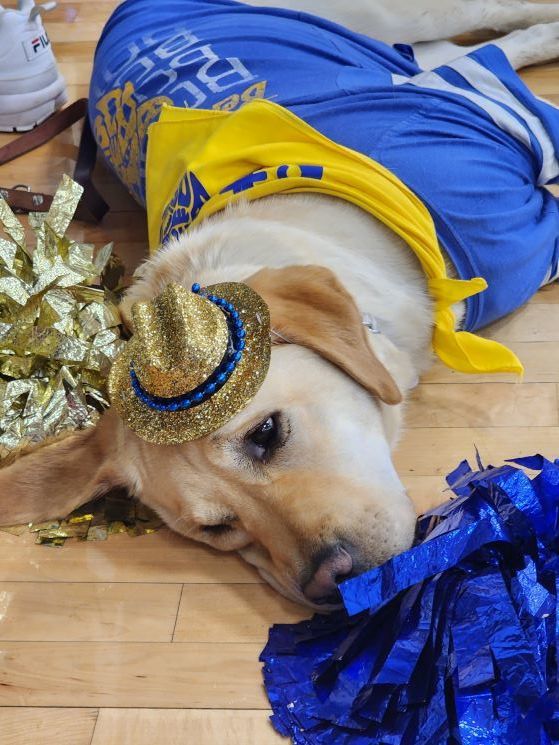 Pertinent Weather related schedule for Benton Community Homecoming Activities as we continue to monitor the weather... 1:30-Parade-still on. 2:00-Pep Rally in the HS Gym-still on. 4:00-Freshman Scrimmage-Canceled. 5:00-1-6 grade flag football-Canceled. 6:30-Queen Coronation-still on. 7:00-Varsity Football Game-still on. We will continue to update if any changes are needed. Thank you and go Bobcats!!:)

Happy Homecoming Friday! Benton Facility Survey 2
https://tinyurl.com/BentonFacilitySurvey2
Benton Community School Board seeks your feedback about improvements to our facilities. This short survey asks about your awareness of the recent bond vote (March 7, 2023) and preferences for future facility investments. Your input will guide a path forward that aligns with the infrastructure needs of the district and expectations of our community. *If you would like a hard copy, please reach out to the Central Office staff.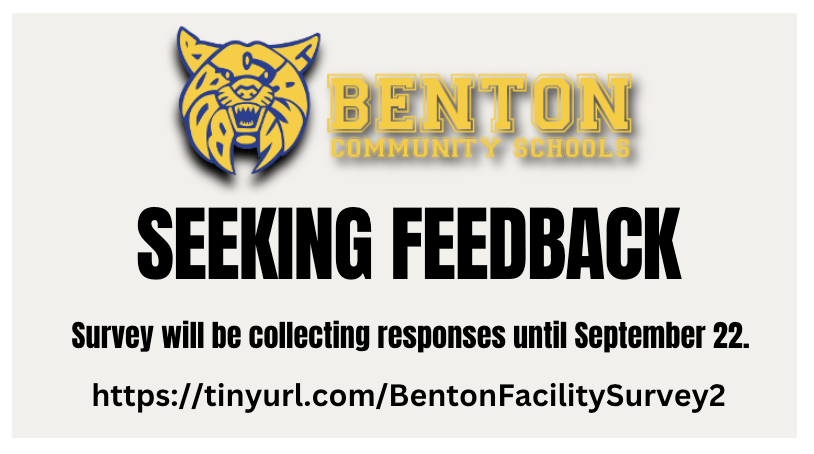 Kelsey answers the question, Why did you choose Benton? "Once a Bobcat, Always a Bobcat! As a former Bobcat, I was able to do some subbing in the district prior to accepting a job. It was a no brainer to say yes when the job was offered to me. In my first years I was able to work alongside teachers that I once had as teachers. I got to know them on a different level and I was able to learn things from them in a different role. Also, now that I have a child, I can't wait to see him grow up a Bobcat and experience all the great things I was able to experience while growing up in this supportive community!"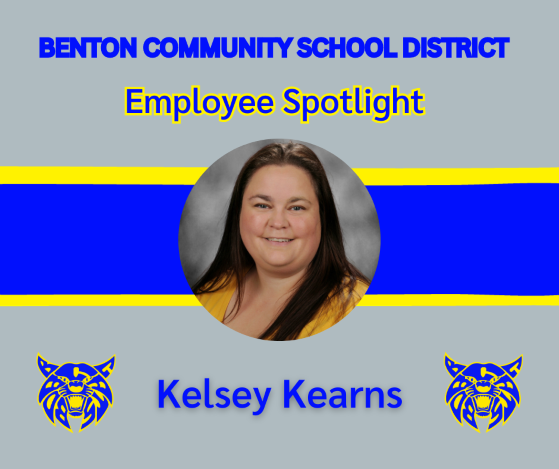 Stella, representing staff's couch potato distinction, in her comfy hoodie. More class distinction day photos.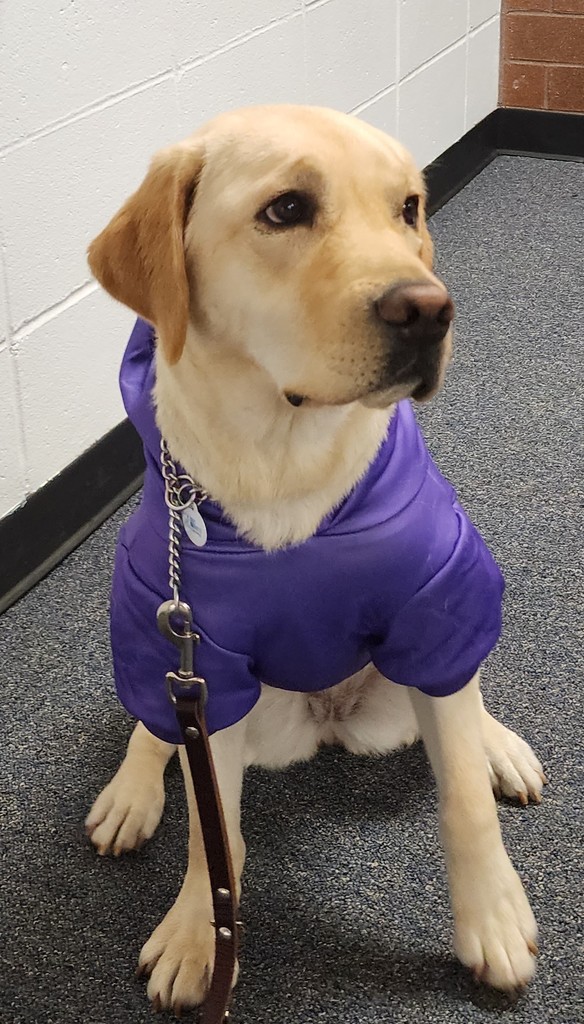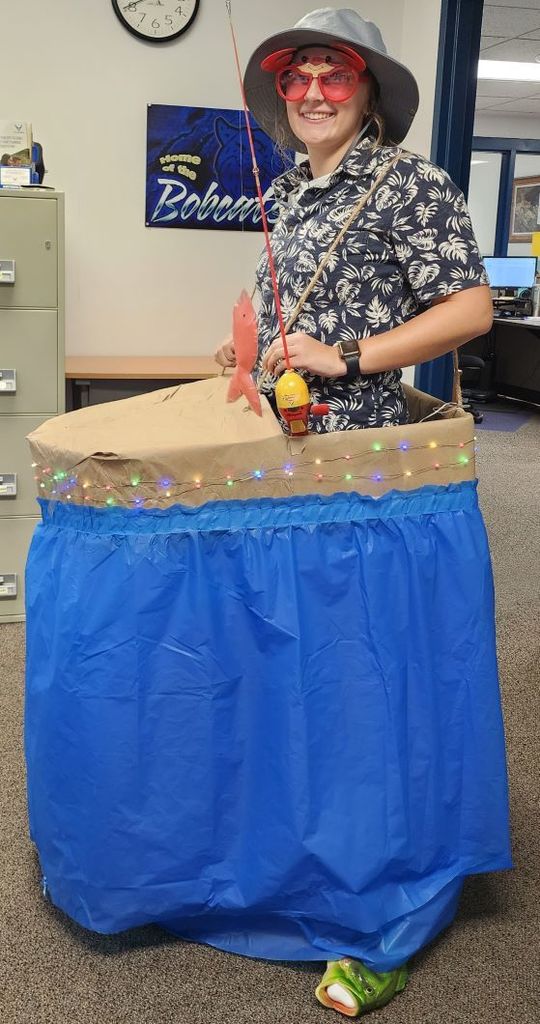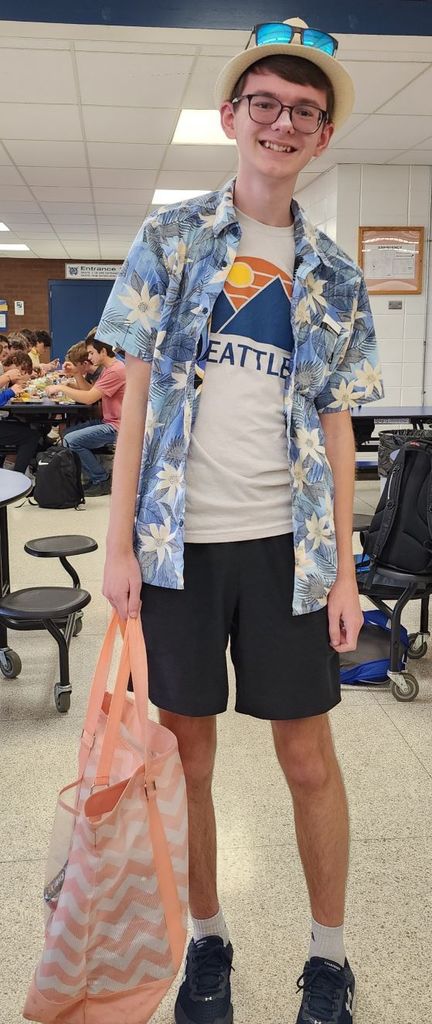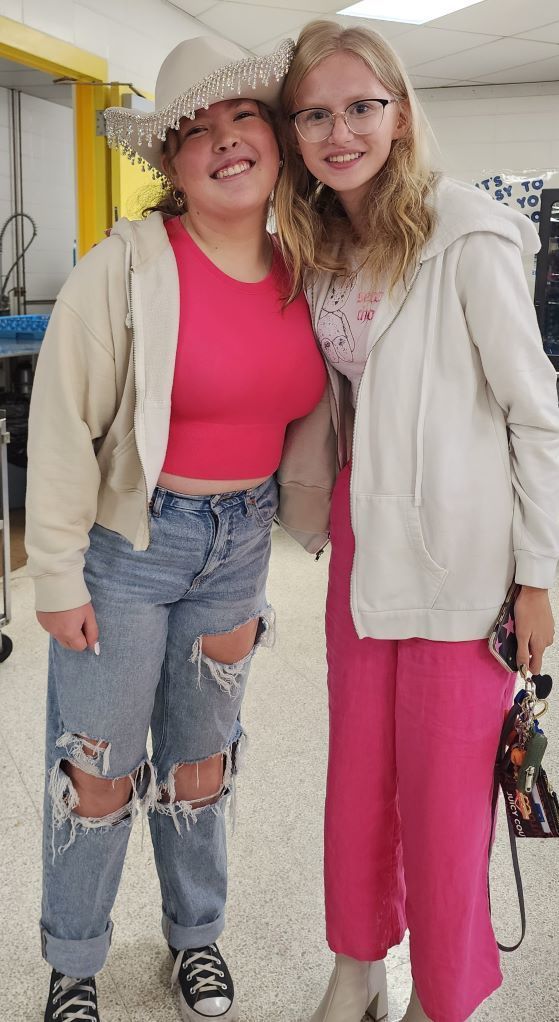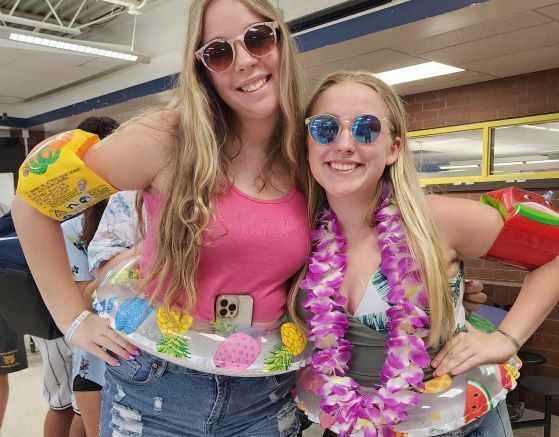 Tuesday and Wednesday Homecoming dress-up winners at the MS/HS Home on the Ranch- Country winners Callan Keiper (center left) Jessa DeMoss Home Sweet Home- USA winners Hailey Suiter Faye Wade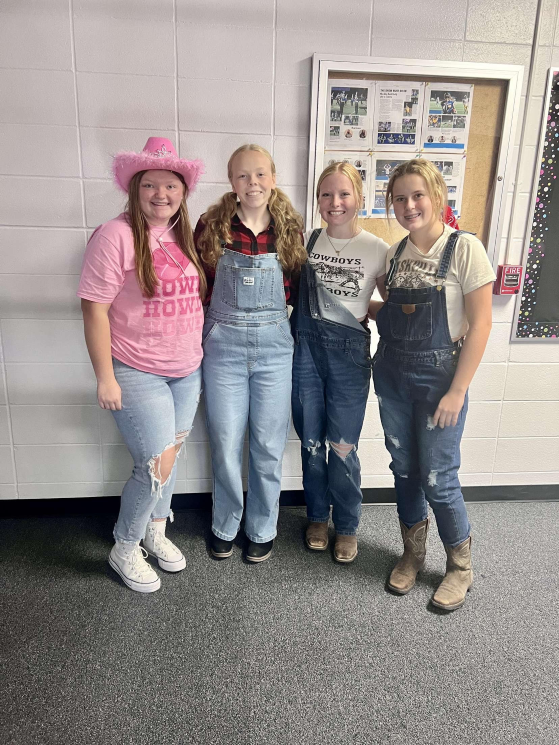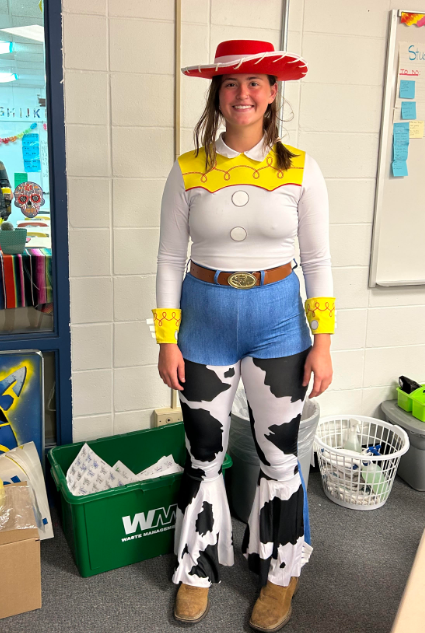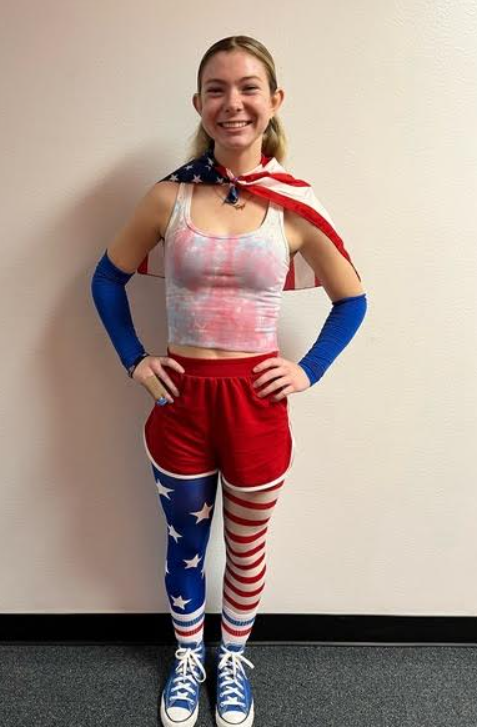 Here are your top 5 2023 Benton Homecoming Candidates Back left to right: Quincy Gilbert, Jace Biery, Ty Kulbartz, Easton Pfiffner, and Brennen Blegen. Front left to right: McKenna Kramer, Jaida Lyons, Morgan Schulte, Piper Nelson, and Emma Townsley. Coronation of the King will be at Friday afternoon's Bobcat Pep Rally and the Queen's coronation will be at 6:30 p.m. at the Homecoming football game.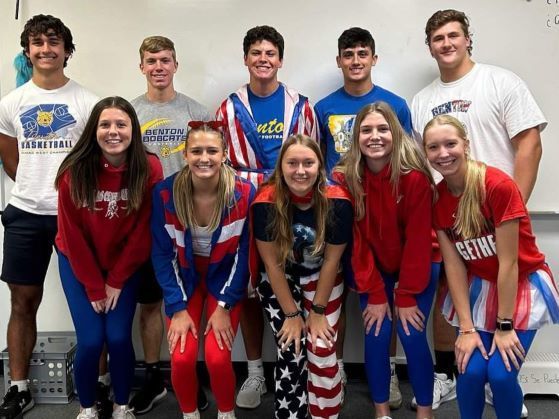 "I chose Benton so I could raise my children in a small community near my family."

Bobcats take on the Wolves tonight at Marion. 7 p.m. start time. The game will be live on KCRG 9.2.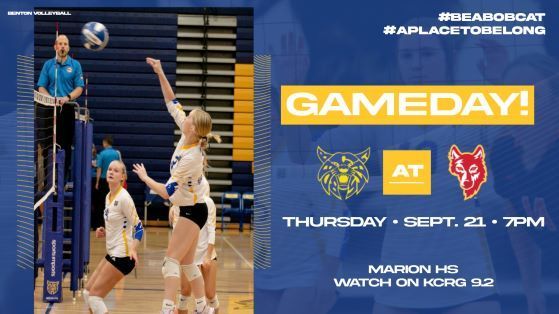 The student center this morning was full of Homecoming class distinction day attire 7th- Jersey 8th- Neon 9th- Tourist 10th- PJ 11th- Barbie & Ken 12th- Day on the Water Photos of 7-10th grade. Upperclassmen evidently like to be fashionably later. More to come.