Quality Education for a Lifetime of Learning
In my role as Instructional Coach and PK-6 Curriculum and Professional Development Leader, I see how professional learning directly impacts our system to support the above mission statement. Professional learning takes many shapes in education. Two structures that we routinely use at Benton Community are:
CL/DT - Grade-level or content alike teams that meet weekly to analyze, design, deliver, and assess instruction using the data team process. CL/DT is built into contract hours prior to the school's official start with students. This allows all certified staff to be engaged in their team's meeting either face-to-face or virtually.
District Professional Learning - Dates built into the district calendar during early release or full non-student days. This learning is usually delivered by district and/or Grant Wood AEA staff to address specific goals outlined in our District Action Plan. The District Action Plan centers around 4 core values (Educational Excellence, Continuous Growth, Caring & Belonging, and Teamwork). The goals written on the action plan outline teacher actions that result in student outcomes.
Although the above list is not even close to extensive, our system both depends on and thrives within these collaborative structures. We are in the business of people and just like any other business model, we need to continue to refine our craft. Collaborating with district staff around instructional needs and district goals allows us to continue to refine our craft and leverage the most effective teaching practices in our daily instruction. Our students deserve to have access to a quality education while they are at Benton Community.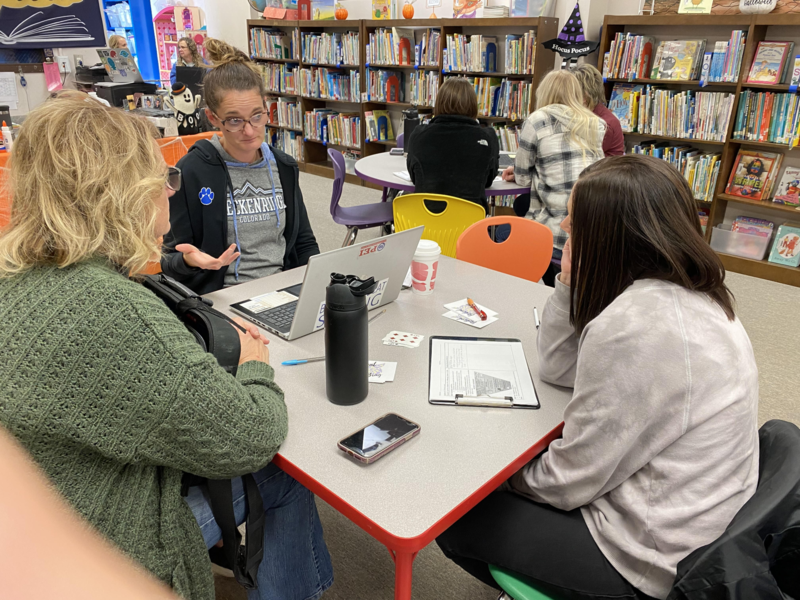 Teachers from Atkins and Keystone collaborated around instructional practices during our Oct. 27th early release.